SEMICON Taiwan 2024 – German-Dutch Pavilion
Machen Sie Silicon Saxony zu Ihrem Fuß in der taiwanischen Halbleitertür.
Your company well represented at one of the world's largest semiconductor trade fairs.
2,500 booths. Well over 50,000 visitors. SEMICON Taiwan is one of the largest semiconductor trade fairs in Asia. Due to the importance of the Taiwanese microelectronics industry, European supplier and service provider companies, research and scientific institutions should not miss this opportunity - to offer their own services, solutions and products. Getting a foot in the proverbial semiconductor door, winning customers, making contacts or establishing partnerships here promises growth and profit. A good reason for Silicon Saxony to present itself exactly here with a large booth in the heart of the fair.
You have partners on site or want to travel to Taiwan yourself? Then you will find our EXHIBITION OFFER here:
As always, we offer you an all-round exhibition service by taking care of the complete booth organization and support and the design/creation of your exhibitor terminal.
COMPANY SPECIFIC SERVICES
Stand space on the stand (approx. 1-2 m²)

TFT monitor for your company presentation

Standing table or shelf for notebook/documents

sideboard, 1 bar stool

Stand furniture (shared by the sub-exhibitors), carpeting, basic stand lighting

Electrical connection / 1 socket incl. power consumption
GENERAL SERVICES
conceptual planning, organization and realization of the exhibition participation

support of the participating companies before and during the exhibition

stand space in the hall

uniform floor covering, uniform company stand lettering & frame design of the exhibition participation, general illumination of the stand

cross-company advertising measures: Announcement & presentation on www.silicon-europe.eu & www.silicon-saxony.de as well as via social media channels, etc.
PARTICIPATION AMOUNT
7.900,- Euro (plus mandatory SEMI fee for sub-exhibitors)
Exhibitor placement will be on a first-come, first-served basis.
Booth example 2023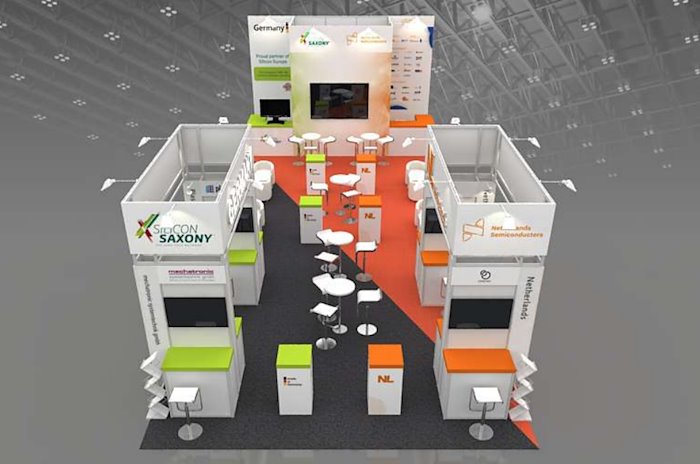 TWTC Nangang Exhibition Hall

11568 Taipei City / Taiwan