Trans4mation IT GmbH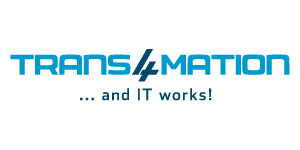 Glashütter Str. 55
01309 Dresden
Head of Human Resources & Office Management
The Trans4mation Group, headquartered in Dresden, is committed to innovation and quality – with continuing success, as our timeline shows. Companies are more than the sum of products and employees. This is why the companies of the Trans4mation Group stand for concrete values: Innovative spirit, down-to-earth attitude, quality awareness and family friendliness. These values determine how we work and interact with one another. As your IT partner, we provide orientation in a constantly changing market – with integrated solutions and strong service. As a full service provider, we offer you all IT services from one source. Whether it's the introduction of Windows 10, the provision of Managed Workplace or advice on Microsoft 365: you save time and money, because we focus uncompromisingly on innovation, quality and customer proximity.
The Trans4mation group consists of
Trans4mation IT GmbH and five subsidiaries
with professional and regional focus in Berlin, Solingen, Stuttgart, Munich and the Swiss locations Buchs and Baar.