esb Rechtsanwälte Strewe & Partner mbB
Agreements and GTCT for the purchase and sale
·
Beratung von Start-Ups und IT-Unternehmen
·
Commercial law
·
Copyright
·
Corporation law
·
Distribution right
·
Energy law
·
Externer Datenschutzbeauftragter
·
Internationale Verträge
·
IT Law
·
IT-Management
·
Kartellrecht
·
Law
·
Law of plant engineering
·
Lawyer's Office
·
Media law
·
Patent Law
·
Privacy and Compliance
·
Protection of industrial property
·
Recht der neuen Technologien
·
Trademark law
Agreements and GTCT for the purchase and sale
·
Beratung von Start-Ups und IT-Unternehmen
·
Commercial law
·
Consulting
·
Copyright
·
Corporation law
·
Distribution right
·
Energy law
·
Externer Datenschutzbeauftragter
·
Internationale Verträge
·
IT Law
·
IT-Management
·
Kartellrecht
·
Law
·
Law of plant engineering
·
Lawyer's Office
·
Media law
·
Patent Law
·
Privacy and Compliance
·
Protection of industrial property
·
Recht der neuen Technologien
·
Trademark law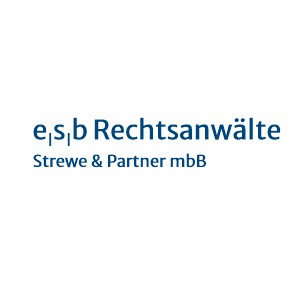 Goethestraße 17
01109 Dresden
Rechtsanwalt und Fachanwalt für IT-Recht, Geschäftsführender Partner, Richter am Verfassungsgerichtshof des Freistaats Sachsen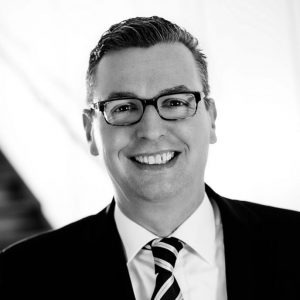 esb Rechtsanwälte Strewe & Partner mbB

mit Hauptsitz in Dresden sind die führende Fachanwaltskanzlei für IT-Recht in Mittel­deutsch­land.
haben zur Erstellung und Pflege von maßgeschneiderten Musterverträgen und AGB ein umfassendes IT-gestütztes Wissensmanagement entwickelt, das auch preiswerte und rechtssichere Updates Ihrer Regelwerke ermöglicht.
decken mit ihren Fachanwälten für IT-Recht, Internationales Wirtschaftsrecht, Gewerblichen Rechtsschutz sowie Urheber- und Medienrecht alle denkbaren Bereiche des IT-Rechts ab.
unterhalten eigene Büros in Dresden, Dortmund und Schleswig-Flensburg und sind als Mitglied der Europäischen Wirtschaftsinteressenvereinigung
esb EWIV mit weiteren Standorten in Deutschland und Europa vertreten.
Seit vielen Jahren stehen esb Rechtsanwälte als aktives Mitglied sowohl dem Silicon Saxony e.V. als auch seinen Mitgliedern mit rechtlichem Rat zur Seite, betreuen Marken, entwerfen Verträge, beraten in IT-Projekten und vertreten Unternehmen vor Behörden und Gerichten. Im Fokus unserer Beratung steht immer der juristische Erfolg und zugleich der wirtschaftliche Nutzen unserer Tätigkeit.

Villa Harzer, Dresden office of esb Rechtsanwälte
Specializing in IT and business law since the mid-1990s, the law firm e|s|b lawyers provides legal advice primarily to the IT industry, small to medium-sized companies, public administration, with a number of reputable references are available upon request.
We offer members of the Silicon Saxony e. V. an initial consultation free of charge in all legal matters.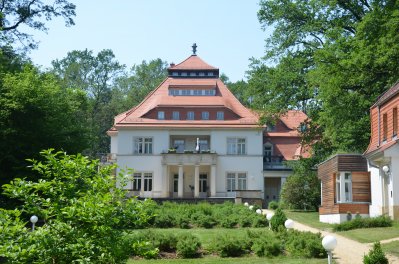 Certified Lawyer for Information Technology Law Stefan Ansgar Strewe and Lawyer Heike Nikolov at the Silicon Saxony fair 2013
For a number of years the law firm e|s|b lawyers has been an active member of the Silicon Saxony e. V., supporting the organization as well as its members with legal advice, managing trademarks, drafting contracts, consulting in IT-projects and representing companies before offices and courts.
Legal success is paramount in the legal assistance we provide, as is the efficient use of our resources.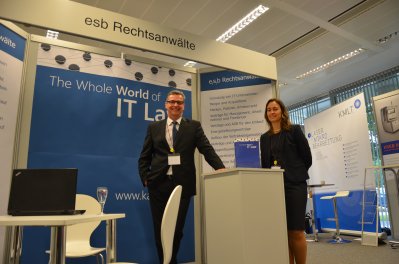 Legal Notice
esb Rechtsanwälte
Emmert Strewe Bücking Buck Speichert
Partnerschaftsgesellschaft
Goethestraße 17
01109 Dresden
E-mail: dresden@kanzlei.de
Phone: +49 (0) 351/81651-0
Fax: +49 (0) 351/81651-99
Register of partnerships: AG Stuttgart PR 720114
________________________________________
Further compulsory details according to § 5 TMG
Rechtsanwalt Stefan Ansgar Strewe who can be directly contacted by using the aforementioned contact details is responsible for the content. The professional title "Rechtsanwalt" was awarded to Rechtsanwalt Strewe according to § 8 BRAO by the Saxon administration of justice department through the
Rechtsanwaltskammer Sachsen
Glacisstraße 6
01099 Dresden
Phone: +49 (0) 351/318590.
The competent supervisory authority is also the Rechtsanwaltskammer. The profession is governed by the Berufsordnung für Rechtsanwälte, the Bundesrechtsanwaltsordnung and the Rechtsanwaltsvergütungsgesetz. The regulations can be found at www.brak.de.
________________________________________
VAT-ID: DE189238771
Professional liability insurance: Allianz Versicherungs-Aktiengesellschaft, Königinstraße 28, 80802 Munich
Territorial scope of application of the professional liability insurance: Federal Republic of Germany