EDC Electronic Design Chemnitz GmbH
ASIC Design
·
electronics development
·
Fertigung kundenspezifischer elektronischer Lösungen
·
IC-Test
Applications
·
Micro- / Nanoelektronics
·
Smart Systems
Aerospace
·
Applications
·
ASIC-Design
·
Electronic
·
electronics development
·
Fertigung kundenspezifischer elektronischer Lösungen
·
IC-Test
·
Medical Technology / Pharma
·
Micro- / Nanoelektronics
·
Semiconductor Industry
·
Smart Systems
·
System- and IC-Design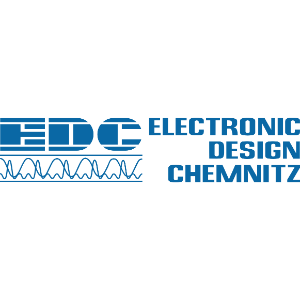 Technologie-Campus 4
09126 Chemnitz
Geschäftsführer/ General Manager
EDC Electronic Design Chemnitz GmbH ist ein 2008 gegründetes mittelständisches Technologieunternehmen mit Hauptsitz auf dem Smart System Campus in Chemnitz. Das Kerngeschäft umfasst die kundenspezifische Entwicklung und Produktion innovativer Elektronik vom integrierten Schaltkreis bis zum elektrischen System. Die hauseigene Produktions- und Testausstattung ermöglicht die komplette Abdeckung der Wertschöpfungskette von der Entwicklung bis hin zur Serienproduktion. Lösungen von EDC werden weltweit für Medizin- und Life-Science-Produkte sowie Luft- und Raumfahrt und der Industrieelektronik genutzt.
The EDC Electronic Design Chemnitz GmbH acts as a fabless design provider in the fields of discrete circuit design, electronic measurement, sensor applications, ASIC-Design and especially in integrated microsystems.
EDC Electronic Design Chemnitz GmbH was founded in January 2008 as a spin-off from the Chair of Electronic Components for Micro- and Nanotechnology at the Chemnitz University of Technology.
The company is part of the "Smart Systems Campus" near the Chemnitz University of Technology; a center for microelectronics, microsystems technology and system integration in Saxony.
The competences of EDC contains the development of application specific integrates circuit and the appendant software solutions.
In developing these, the members of staff applies modern technologies like micromechanical sensors and actuators – as well as CMOS, BiCMOS and High Voltage.
EDC offers competent consulting in order to implement your idea in a customized system concept.
Range of services
ASIC-Design
power electronics
control systems
customized Hard- and Softwaresystems